Put your projects in an entirely new light with the Baby Lock Solaris. With the revolutionary new IQ Visionary™ Technology, you'll see how your design looks before you stitch it out! The Solaris' built-in projector displays your stitches and embroidery patterns on fabric in vibrant full color for perfect placement every time.
Uncover the Innovative Features of the Solaris 2
Precise Embroidery Placement
While in embroidery mode, choose from three different projection backgrounds (black, grey or white) based on fabric choices to see your design clearly. The needle drop laser is displayed in a "T" pattern for an even more precise placement.
Perfect Sewing Placement
The Solaris 2 uses a variety of guideline markers and grids for perfect placement. While in sewing mode, switch between three different laser colors (red, green and white) for better visibility based on fabric choices. Single, double, angles and grid lines are ideal for piecing placement, stitch adjustment and aligning starting points and very wide stitches.
10 5/8" x 16" Hoop Size
Baby Lock's largest hoop yet makes it possible to stitch out your biggest embroidery designs with fewer rehoopings.
10.1" Capactive Touchscreen
You'll have total control over every single aspect of your stitches, embroidery designs, placement, colors and more on a large touchscreen with slide scrolling menus and pinch in/out zooming.
IQ Designer
Create your own designs and quilt motifs with ease. Draw directly on the screen, scan in your favorite line art or upload an existing file to the Solaris. Your art will be instantly digitized!
IQ Intutition™ Monitoring app
Keep track of your project's progress with this convenient feature that alerts your phone when the bobbin needs to be changed, if a thread breaks, if a thread needs to be changed and when stitching is done. (Free smart phone app for download is required).
Built-in Designs and Stitches
Make every project uniquely yours with a huge variety of built-in designs, decorative stitches, decorative fills and utility stitches, including exclusive embroidery designs from Baby Lock Sewlebrities.
Auto Split of Large Quilting Border and Corner Designs
Create beautiful quilt borders and sashing with unmatched precision. Simply put in your dimensions and Solaris does the necessary measurements for you. It matches the corners and then calculates the middle for a complete frame.
End Point Setting for Sewing
Achieve perfect stitches using the built-in camera and end point sewing stickers. Simply place the sticker where you want your stitch to the end, activate the endpoint sewing feature and sew with confidence!
Camera Detecting Buttonhole Foot
Solaris' camera automatically senses pre-set points on the buttonhole foot, providing an accurate, better sew out. The two-piece foot secures the fabric, preventing slippage.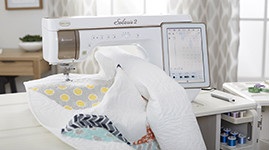 13" to the Right of the Needle
With an unprecedented 13" to the right of the needle for an impressive 65 square inches of workspace, Solaris gives you plenty of room to comfortably work on larger projects and full-size quilts.
Needle Plate with Push Button Release
Switching out plates has never been this easy – just simply touch a button. No tools are needed! The needle plate also features a variety of new markings for better placement, alignment and accuracy.
Dual Spool Stands
This multipurpose spool stand conveniently sits in the top cover. It's perfect for use with twin needles for decorative stitches. For embroidery projects, set up both threads at the same time and quickly change from color to color. It also holds and support larger cones for your quilting projects.
Enhanced Stadium Lighting
Eight high-powered color rendering LEDs illuminate your project so you can see every detail – including your large embroidery designs.
MACHINE ONLY WEIGHT
WEIGHT WITH EMBROIDERY UNIT
MACHINE ONLY WIDTH
MACHINE ONLY DEPTH
LCD SCREEN
WXGA IPS TFT color touch screen measuring 10.1" diagonally (800 x 1280 pixels)
COLOR TOUCHSCREEN
Shows 16,777,216 colors and displays clock and date
PROCESSING SPEED
3x faster than any other machine
MPEG-4 MOVIE/VIDEO PLAY FUNCTION
Measures 6.2" diagonally and has exclusive 1GB memory video storage
IQVISIONARY PROJECTION AREA SIZE
Projects embroidery design in a 3" x 5" area
IQVISIONARY PROJECTION TYPES
Projects utility stitches, character decorative stitches and buttonholes
IQVISIONARY PROJECTION DUAL STYLUS
Advance and select stitches from projection
IQVISIONARY PROJECTION ADJUSTMENTS
Set width, length and left/right shift
IQVISIONARY PROJECTION PRECISION ALIGNMENT
Projects the guide beam, grids and needle beam for precision alignment of stitches
IQVISIONARY PROJECTION GUIDE BEAM, GRIDS AND NEEDLE BEAM ADJUSTMENT OPTIONS
Main and sub line; red, white and green color options; height and width position; 45, 60 and 90 degree angles; grid adjustable from 5mm to 30 mm; 4 adjustment levels on projection light
NEEDLECAM DIGITAL CAMERA
For embroidery and sewing positioning with faster scanning
PRECISE TOUCH POSITIONING USING NEEDLECAM
CAMERA DETECTING BUTTONHOLE FOOT WITH STABILIZATION PLATE
Creates up to 45mm buttonhole
IQ DESIGNER WITH PAPER-HOLDING FRAME FOR IMAGE SCANNING LCD SCREEN SIZE
LCD screen size can be enlarged to 1280 x 800 pixels
IQ DESIGNER WITH PAPER-HOLDING FRAME FUNCTION
Will automatically create an embroidery pattern from a JPEG image
IQ DESIGNER WITH PAPER-HOLDING FRAME DRAWING AREA
3-3/4" x 5-11/16" (96mm x 145mm)
IQ DESIGNER WITH PAPER-HOLDING FRAME SHAPES
90 Pre-loaded open, closed and region shapes
IQ DESIGNER WITH PAPER-HOLDING FRAME ABILITIES
Select different line and fill colors
IQ DESIGNER WITH PAPER-HOLDING FRAME STITCH PATTERNS
18 Different stitch patterns including running, bean, satin, no outline, chainstitch, blanket, blindhem, candlewicking and 10 decorative stitch outlines
IQ DESIGNER WITH PAPER-HOLDING FRAME FILL PATTERNS
33 Different fill patterns including regular fill, no fill, stipple inside or around a shape and 30 decorative pattern fills
IQ DESIGNER WITH PAPER-HOLDING FRAME PRE-LOADED SHAPES
Duplicate, edit and paste
IQ DESIGNER WITH PAPER-HOLDING FRAME ADJUSTMENT PROPERTIES
Line, fill and stippling width, length and density
IQ DESIGNER WITH PAPER-HOLDING FRAME OPTIONS
Undersewing and undo/redo
IQ DESIGNER WITH PAPER-HOLDING FRAME STAMP CREATION
Outline stamp shape creation for Trapunto techniques
SCANNING MODES
2: Fine for illustrations and standard for line drawings
LIGHTING
Enhanced stadium lighting for 13" of brighter true color LED lighting on the needle and work area with 5 settings
NUMBER OF USB TYPE A PORTS
2 USB 2.0 drives to connect a mouse, flash drives, hub and CD-ROM drives
SD CARD SLOT
WIRELESS WI-LAN FUNCTION DATA TRANSFER TECHNOLOGY
1; Requires Baby Lock Palette 11 Embroidery Software
NEEDLE THREADER TYPE
NeverMiss Automatic Advanced Threading System
DIGITAL DUAL-FEED SYSTEM
ADVANCED PIVOTING FEATURE
AUTOMATIC FABRIC SENSING SYSTEM
AUTOMATIC SENSORS
Thread tension control; upper and lower thread sensors on/off; upper and lower thread sensors to alert when threads run out; on-screen hoop sensor recommends size of hoop
STITCHES PER MINUTE
1,050 sewing and embroidery spm
PRECISE TRACKING SYSTEM ON EMBROIDERY CARRIAGE
RESUME MODE
PROGRAMMABLE SHUTOFF CAPABILITIES
ECO POWER MODE
BUILT-IN DESIGNS
740, including 355 Baby Lock exclusives, 35 Sewlebrity designs, 15 buttonhole embroidery designs in 3 sizes (45 total), 15 buttonhole embroidery frame designs, 240 large decorative stitch designs and 10 quilting border patterns
BUILT-IN FONTS
MAXIMUM EMBROIDERY SIZE/AREA
Up to 10-5/8" x 16" (272mm x 408mm) hoop with a new locking mechanism and silicone side-grips for slip-free fabric support
EMBROIDERY PATTERN MEMORY
FRAME COMBINATIONS
STITCH READABILITY CAPACITY
Up to 850,000 stitches per design
COLOR VISUALIZER WITH PINNABLE COLOR SELECTIONS
WXGA IPS TFT COLOR LCD TOUCHSCREEN EMBROIDERY CAPABILITIES
Design placement using drag/drop and slide/scroll/pinch; enhanced realistic preview; and needle positioning grid and hoop selections
WXGA IPS TFT COLOR LCD TOUCHSCREEN SCREEN BRIGHTNESS SETTINGS
WXGA IPS TFT COLOR LCD TOUCHSCREEN ENLARGEMENT CAPABILITIES
Design previews 200% and needle position image 200%
EMBROIDERY SPEED
WXGA IPS TFT COLOR LCD TOUCHSCREEN ESTIMATED EMBROIDERY TIME DISPLAY AND STITCH COUNT
WXGA IPS TFT COLOR LCD TOUCHSCREEN EMBROIDERY PROGRESS BAR
WXGA IPS TFT COLOR LCD TOUCHSCREEN EMBROIDERY STITCH SIMULATOR
WXGA IPS TFT COLOR LCD TOUCHSCREEN EMBROIDERY NEEDLE ADVANCEMENT
1, 10, 100 or 1,000 stitch increments
WXGA IPS TFT COLOR LCD TOUCHSCREEN EMBROIDERY MEASUREMENTS DISPLAY
WXGA IPS TFT COLOR LCD TOUCHSCREEN EMBROIDERY COLOR SEPARATION
WXGA IPS TFT COLOR LCD TOUCHSCREEN EMBROIDERY THREAD COLOR INDICATOR
WXGA IPS TFT COLOR LCD TOUCHSCREEN EMBROIDERY HOOP SIZE ON-SCREEN INDICATOR
WXGA IPS TFT COLOR LCD TOUCHSCREEN LOW BOBBIN THREAD INDICATOR
WXGA IPS TFT COLOR LCD TOUCHSCREEN EMBROIDERY COLOR NAMES
WXGA IPS TFT COLOR LCD TOUCHSCREEN EMBROIDERY SCREEN SAVER CUSTOMIZATION
WXGA IPS TFT COLOR LCD TOUCHSCREEN EMBROIDERY THUMBNAIL IMAGE VIEWING
3 Viewing sizes defaulted at 150%
TRIAL CHECKPOINTS
STARTING POINT KEY FOR INSTANT ALIGNMENT OF CHARACTERS OR PATTERNS
ALTERNATE BOBBIN CASE FOR PRE-WOUND BOBBINS
CUSTOMIZABLE EMBROIDERY PATTERN AND THUMBNAIL BACKGROUND COLOR OPTIONS
ON-SCREEN GRID
CUTS JUMP STITCHES
EMBROIDERY FRAME CLEARANCE SETTINGS FOR EASY BOBBIN CHANGES
EMBROIDER WITHOUT REMOVING THE FOOT CONTROL
COMPATIBLE-READY FOR OPTIONAL W+ NEEDLE BEAM FOOT AND MOUSE
COMBINE DESIGNS
CHARACTER/TEXT ARRAY FUNCTION
CHARACTER SPACING
MULTI-LINE TEXT WITH JUSTIFICATION OPTIONS
CHARACTER INSERT AND GROUP EDIT CAPABILITIES
CHANGE FONTS ON LETTERS OR WORDS AFTER THE DESIGN IS SET
PATTERN ROTATION
ENHANCED DESIGN ENLARGEMENT AND REDUCTION
Enlargement up to 200% and reduction down to 60%
DESIGN DUPLICATION
MULTIPLE DESIGN SELECTION CAPABILITIES
AUTOMATIC APPLIQUÉ
AUTOMATIC BASTING
ADD AUTOMATIC STIPPLING AND ECHO STITCHING AROUND EMBROIDERY DESIGNS
Yes; set the distance, spacing and frame size
MIRROR IMAGE CAPABILITY
CHANGE COLOR SELECTIONS WITHIN DESIGNS
ENHANCED COLOR SORTING TO OPTIMIZE SEWING ORDER
MONOCHROME OPTION FOR EMBROIDERY DESIGNS
PROGRAMMABLE CUSTOM THREAD COLOR SELECTION
BUILT-IN THREAD COLOR PALETTES FROM MAJOR BRANDS
BUILT-IN STITCHES
BUILT-IN UTILITY STITCHES
NUMBER OF ONE-STEP BUTTONHOLES
NUMBER OF FOUR-STEP BUTTONHOLES
BUILT-IN DECORATIVE STITCHES
BUILT-IN SATIN STITCHES
BUILT-IN CROSS STITCHES
BUILT-IN COMBINED UTILITY STITCHES
BUILT-IN DECORATIVE SATIN STITCHES
BUILT-IN ALPHABETS
QUILTING STITCHES
NEEDLE POSITIONS
MAXIMUM STITCH LENGTH
BASTING STITCH OPTIONS
2; regular 5mm and free-motion
MAXIMUM STITCH WIDTH
UTILITY STITCH EDITING CAPABILITIES
MEMORY SETTINGS FOR UTILITY STITCHES
5 for each utility stitch
DECORATIVE STITCH EDITING CAPABILITIES
Edit and combine character decorative stitches; 1MB character/decorative stitch memory; satin stitch elongation; mirror-image; back to beginning key; single and repeat model and length/width proportional linking key
SEW UTILITY AND DECORATIVE STITCHES WHILE EMBROIDERY ARM IS ATTACHED
AUTOMATIC DROP FEED ON SCREEN
LOCK KEY FOR UTILITY AND DECORATIVE STITCHES
REINFORCEMENT PRIORITY SETTINGS
LATERAL AND DIAGONAL FEEDING
VARIABLE NEEDLE POSITION
FULLY AUTOMATIC BUILT-IN DARNING
TWIN NEEDLE SEWING
WORKSPACE SIZE
13.1" to the right of the needle
MACHINE BED SURFACE
CONVENIENT PUSH BUTTON FEATURES
Start/stop, reverse sewing, reinforcement key, needle up/down, thread cutter, automatic presser foot lift and automatic needle threading
BOBBIN LOADING TYPE
Quick set, top-loading with sensor
BOBBIN WINDING
Quick-set, independent winding system with 4 adjustable speed settings and 5 variable bobbin filling settings
NEEDLE PLATE
KNEE LIFT
Ergonomic, 3-position with extra-high presser foot lift (10mm automatic and 13mm manual)
NEEDLE PLATE WITH SCALE IN INCHES AND CENTIMETERS
Yes and additional guideline markings
THREAD CUTTER
Automatic, with on/off capability
FREE ARM
AUTO NEEDLE UP/DOWN
VOLUME
Adjustable with 5 settings
THREAD STAND
Foldable king two-spool that attaches magnetically to machine lid
ACCESSORY STORAGE
Two compartments in sewing tray and enhanced accessory storage box with 3 interchangeable trays
FOOT CONTROL
Yes, compatible ready for optional multi-function foot control
SEWING SPEED CONTROL DOUBLES AS WIDTH CONTROL
INSTRUCTIONS AND REFERENCE MANUAL
BUILT-IN OPERATIONAL GUIDE
Yes, with up to 40 help topics and 33 built-in videos
BUILT-IN SEWING APPLICATION GUIDE
BUILT-IN HELP MESSAGES
EMBROIDERY STITCH COUNT SYSTEM
CAPABILITY TO SAVE SETTINGS AND SCREEN IMAGES
MULTIPLE LANGUAGES
WARRANTY
25 years limited, 10 years parts, 5 years computer circuit, 5 years electrical and 1 year labor
NUMBER OF HOOPS INCLUDED
NUMBER OF FEET INCLUDED