BERNINA 770 QEE – Enjoy sewing, quilting and endless possibilities
A lot of space for big art work
For American quilt artist Tula Pink, the BERNINA 770 QEE is something very special: "Next to my passion for my designs, I'm equally passionate about BERNINA. The BERNINA 770 QEE gives me the space I need for quilting, plus the Stitch Regulator can't be beat for even stitches." Tula Pink plays with images the way a poet plays with words, turning innocuous traditional designs into mischievous little critters. Tula's love affair with textiles began early and an obsession with sewing soon followed. Tula began quilting in an effort to use up her ever-growing stash of fabric so that she could justify buying more. Today, 16 years later, she is a renowned designer and quilter. Tula Pink has designed a quilt from her "Moonshine" fabric collection exclusively for BERNINA.
The heart of the BERNINA 7 Series features a novel,centrally placed driver, which allows the BERNINA Hook to run fast yet quietly. The BERNINA Hook sews high-precision stitches up to 9 mm in width with speeds up to 1,000 stitches per minute. The bobbin holds up to 70% more thread than standard bobbins allowing you to sew longer without interruption.
The BERNINA 7 Series includes a meticulously engineered extended freearm with 10 inches of space to the right of the needle. The BERNINA 770 QEE not only provides plenty of space for large, beautiful sewing and quilting projects - with its stitch width of 9 mm, it is also ideally suited for sewing decorative stitches. The extra-large embroidery module lets you stitch out maxi-sized motifs. And should your ambitions grow, the BERNINA 770 QEE can be updated with a wealth of accessories.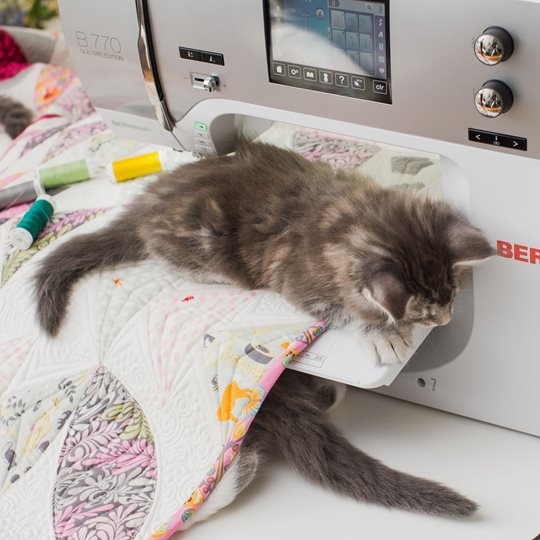 All BERNINA 7 Series models provide an exclusive level of stitch control. Whether altering stitch length, stitch width or needle position, the machine will remember the stitch details for you. Your personal settings can be saved and retrieved at will. And the USB interface allows you to import and export stitches and stitch patterns or combinations.
The BERNINA Adaptive Thread Tension, a BERNINA innovation, provides ideal thread tension for each and every stitch type, in any variation. The tension is electronically adjusted to the selected stitch width, length, speed, and needle position on each penetration of the needle into the fabric. The result is the finest stitching without pressing a button.
The BERNINA 770 QEE is equipped with the BSR function. The BSR foot assists you with free-motion sewing and quilting with a straight or zigzag stitch, ensuring stitches of the exact same length even at variable sewing speeds. It comes standard with the machine.
The BERNINA 770 QEE also includes the Patchwork foot 97D with movable guide rail. For patchworking, it provides extra reliability for when joining together the patchwork pieces. When used in conjunction with the straight stitch needle place, it enables you to achieve a perfect stitch result.
The innovative BERNINA Dual Feed tames hard-to-manage fabrics providing superb fabric feed and optimum visibility while sewing. Easy to engage when needed, the BERNINA Dual Feed tucks completely out of the way when it's not.
The BERNINA 770 QEE accomplishes many tasks all by itself. The presser foot lowers automatically at the beginning of a seam. Threading is semi-automatic, and the thread is cut automatically when you reach the end of a seam, or when you wish to change colors while embroidering. Moreover, a practical extension table, which yet again significantly increases your work area, is included in the standard package.
User-friendly features and intuitive navigation: the Sewing Consultant and built-in tutorials offer direct onscreen support and answers to your questions at any time, day or night.
Learn more about the new features coming with the firmware update (V37.46.33)
Intuitive & very easy to use
Toggle between mm & inches: The embroidery design size and the hoop dimensions can be shown in mm or inches.
Reads most popular file formats: EXP, DST, PES, JEF, PCS, SEW, XXX.
Total Stitch Control
Thread Away Mode: Pulls the threads down to the underside for clean embroidery results on the top. Program jump stitch length to manage thread cuts. Subject to design properties. No more manual trimming on the top side needed.
Invisible & Smart Secure: Securing stitches become invisible as the tie-on/off stitches are sewn in stitch direction. Smart secure adds tie-on/off stitches to a design, if none are preset.
Optional Midi Hoop
Enjoy embroidering with the BERNINA Midi Hoop, guaranteeing quick and perfect embroidery performance.
Very easy to hoop and unhoop
Get full tension on your fabric
Waste less stabilizer
Ergonomic twist-lock mechanism
Size: 10.5 x 6.5 inch, 265 x 165 mm
General
Hook system

BERNINA Hook

Maximum sewing speed (stitches per minute)

1000

Length of freearm to the right of the needle

10" / 254 mm

Color touch screen

4.3 Inches / 10 cm

LED sewing lights

30 LED

Multi-function knobs
Maximum stitch width

9

Maximum stitch length

6

Needle positions
Sewing in each needle position
Number of spool holders

2

Semi-automatic needle threader
Automatic thread cutter
Adjustable presser foot pressure
Manual thread cutter

3

BERNINA Dual Feed
Adaptive Thread Tension
Create and save stitch combinations
Maximum embroidery speed (stitches per minute)
Memory (short-term/altered stitches)
Memory (long-term/altered stitches)
BSR enabled, straight stitch and zigzag (separate BSR foot required)
Start/stop button (stitching without foot control)
Slide speed control
Upper thread indicator
Lower thread indicator
USB interface for PC connection
USB interface for USB data stick
Changing stitch settings while sewing
BERNINA foot control with back-kick function
Needle stop up/down
Drag & Drop
Bobbin winding while sewing/embroidering
On-screen help
Sewing tutorial
Creative consultant
Personal program
History function (most-recently-used stitch patterns)

-

Setup program
Eco mode
Machine weight
Machine size
Sewing
| | |
| --- | --- |
| Pattern start/end function | |
| Elongation | |
| Security function program | |
| Stitch Designer | - |
| 360° directional sewing | - |
| Sideways motion feed | - |
| Number of stitch patterns (incl. alphabet) total | 992 |
| Connecting stitches | - |
| Utility stitches total | 30 |
| Buttonholes (incl. eyelet) total | 13 |
| Automatic buttonhole length measuring system | |
| Automatic buttonhole | |
| Manual multi-step buttonhole | |
| Button sew-on program | |
| Darning programs | 2 |
| Decorative stitches total | 283 |
| Decorative sideways motion stitches | - |
| Quilting stitches total | 50 |
| Cross-stitch programs | 20 |
| Tapering/skyline stitches | - |
| Sewing alphabets | 6 |
| Monograms (with sideways motion) | - |
Embroidery
Maximum embroidery speed (stitches per minute)

1000

Built-in embroidery designs

140

Embroidery alphabets

6

Embroidery design format

EXP, DST, PES, PEC, JEF, SEW, PCS, XXX

Onscreen editing of designs: positioning, mirroring, rotating, scaling, combining
Large embroidery module
x
Pinpoint Placement

-

Color Wheel
Rearrange embroidery designs in combination

-

Invisible Secure
Smart Secure
Thread-up Command
Programmable jump stitch cutting
Thread Away Mode
Embroidery Consultant

-

Midi hoop functionality (embroidery field: 265 x 165 mm)
Mega hoop functionality (embroidery field: 400 x 150 mm)
Maxi hoop functionality (embroidery field: 400 x 210 mm)
Jumbo hoop functionality (limited embroidery field: 400 x 210 mm)
Automatic hoop recognition
Freearm embroidery
Personal memory for embroidery designs
Lettering manipulation (WordArt)

-

Importing stitch patterns
Color resequence

-

Cut jump stitches
Sequence control
Basting
Endless embroidery

-

Position recall
Embroidery tutorial
BERNINA Embroidery Software Compatible
BERNINA PunchWork Tool compatible
BERNINA DesignWorks Software & Tool compatible