Bonus Offer with In-store Purchase.
Purchase an Elna covermax and receive a Special Offer for an Accessory Bundle valued at $644 for Only $369!
---
This item is currently on order. Add to cart and your order will be filled once received. Want to layaway this item? Please call one of our helpful store associates. 800-442-8227
---
Combining new fabulous stitching possibilities and unmatched user comfort, the elna eXtend covermax is the coverstitch machine you were looking for! You will be able to choose from a variety of professional looking stitch programs, such as a fantastic double-sided top cover stitch. You will also love the new solutions designed to facilitate operation and for threading the machine.
The elna eXtend covermax is the coverstitch machine you were looking for! Combining up to 5-thread sewing and the use of 1, 2 or 3 needles, it offers a variety of stitch programs for professional looking hems and absolute versatility:
A fantastic, new top cover stitch, available in three versions.
An exclusive built-in spreader for easy operation of the top cover stitch function.
Completed by triple cover stitch, wide or narrow cover hem and chain stitch.
Because using a coverstitcher may be challenging, these unique features will facilitate operation and user comfort:
Bright LED lighting in two areas plus an amazing retractable front light.
A built-in needle threader with a selection lever for all three needles.
Easy threading with color-coded guide and release system for looper.
Automatic tension setting for precise stitching on fine and standard fabrics.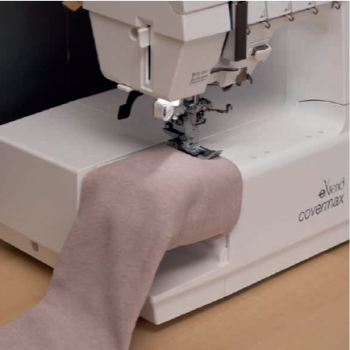 The eXtend covermax features a unique design with ergonomic solutions inspired by conventional sewing machines:
Extra-wide sewing area.
Free arm for easily sewing tubular items, such as sleeves or leggings.
Convenient location of the dials for stitch length and differential feed adjustment.
A wide extension table available as optional accessory.
Guaranteed to fit because it is a 
 part.
Technical Features
7 stitch programs.
2, 3, 4 or 5-thread sewing.
1, 2 or 3 needles.
Top cover stitch triple, wide or narrow.
Built-in spreader for top cover stitch function.
Cover hem stitch 3 or 6 mm wide.
Chain stitch (3 needle positions).
Built-in needle threader with lever for needle selection.
Free arm.
2 LED lights + retractable front light.
Color coded thread guide.
Adjustable differential feed from 0.5 to 2.25.
Tension Level Control (TLC) for automatic thread tension adjustment for precise stitching with fine and standard fabrics (not available for top cover stitch).
Maximum sewing speed adjustable up to 1000 stitches/min.
Extension table as optional accessory.
Stitch Programs
Double-sided
Triple top cover stitch - 3 needles / 5 threads
Top cover stitch wide (6 mm) - 2 needles / 4 threads
x Top cover stitch narrow (3 mm) - 2 needles / 4 threads
Single-sided
Triple cover stitch - 3 needles / 4 threads
Cover stitch wide (6 mm) - 2 needles / 3 threads
Cover stitch narrow (3 mm) - 2 needles / 3 threads
Chain stitch - 1 needle / 2 threads
California Residents: