Janome MC9400QCP Upgrade Kit
865402001
Price: 159.99
Sale: 119.99
You save $40.00 (25%)!
This item qualifies for free shipping!
No Sales Tax (if shipped outside PA).
Get more time to pay for this item with PayPal Credit
Receive 6 months special financing on this item upon credit approval.
Get more out of your Horizon Memory Craft 9400 QCP! This upgrade kit unlocks new features in your machine and the new accessories make difficult sewing techniques easy! Included in the kit are four new presser feet and a USB containing the upgrade for your machine.
Included with the Upgrade
Ruler Work Foot (QR)
This foot was developed for doing ruler work. Guide quilting templates along the edge of the foot to create straight, curved, or repetitious patterns depending on your ruler or quilting template. The v-shaped gap in the front enhances visibility.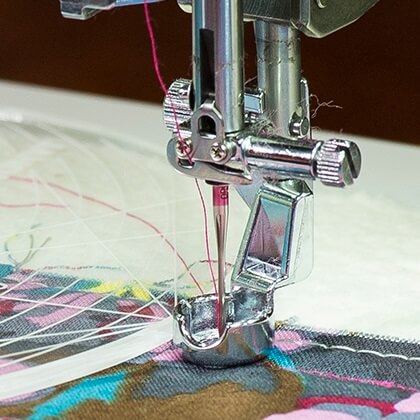 Variable Zigzag Open-Toe Foot (QZ)
An open type variable zigzag foot which makes it easy to see your stitches as they form. Especially useful for detailed areas, layered stitch fi nishing or thread painting.
Quarter Inch Seam Foot Without Guide (O)
Seasoned quilters prefer to use a 1/4" Seam foot without the assistance of guide to avoid catching on the seam allowance. There is even a 1/4" guide line on the left side of the needle drop for added convenience.
Open-Toe Darning Foot (PD-H)
For quilters who prefer to free motion with a darning foot, an opening in the front is a must! This open-toe darning foot makes the needle very easy to see..
Plus a USB containing the machine upgrade!
Write a Review for Janome MC9400QCP Upgrade Kit