See if this works with your machine
---
Designed to fit the biggest of machines this case is perfect for sewists, quilters, embroiderers, and designers. Always handy and ready! Available in 4 different colors. Tutto bags load through the front opening.
Colors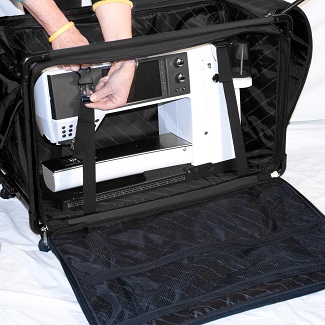 Black
Purple
Red
Turquoise
Features
Sturdy frame protects your machine
Lightweight
Two outside tie-down straps to secure stackable items. Store the straps inside the front and back zipper pockets.
Side pockets for storage
Removable puller bar
Floating divider expands the depth
Mesh pockets for your fabrics
Two inside straps to secure your machine
Both top and front opening for easy access
Versatile pockets keep all your sewing tools organized
Sewing machines and accessories not included
Size
Interior: L28" x H18" x D14"
Top Access: L23" x D10"
Exterior: L28" x H18" x D14"
Front Access: L25" x H16"
Black Part Number: 9228BMA
Purple Part Number: 9228PMA
Red Part Number: 9228CMA
Turquoise Part Number: 9228TMA