Be sure to include 'Love of Sewing' in your machine purchase today!
The Baby Lock Exclusive Love of Sewing Membership is a comprehensive service, support, and maintenance program. Along with the peace of mind that your machine will be taken care of, other key benefits include access to over 1,000 Baby Lock SEWED online classes and unique savings opportunities. (Click here for additional information.)
---
$899 Bonus Offer Available with Purchase.
Special 'Getting Started' Bundle available for purchase when purchasing this machine! A $1518 Value!
*Limited quantities available.
---
This item is currently on order. Add to cart and your order will be filled once received. Want to layaway this item? Please call one of our helpful store associates. 800-442-8227
---
The Baby Lock Capella single-needle, free-arm embroidery machine is ideal for your small embroidery business. Its crosshair positioning laser allows for perfect embroidery design placement, and the free-arm also provides ease and effectiveness when embroidering in tight areas such as inside pockets and sleeves. It can even embroider on stuffed animals, tote bags, and hats!
Features
TruViewTM LCD Color Touch Screen™
This high-definition TruView LCD color touch screen brings your embroidery designs to life. It displays more than 260,000 colors, providing a bold and vivid image to aid the embroiderer in editing and perfecting each design.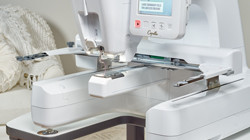 Single-Needle, Free-Arm Embroidery
With its single needle and free arm, the Capella is engineered to embroider an array of designs in hard-to-reach areas such as inside pockets, hats, tote bags, and more.
Embroidery Crosshair Positioning Laser
Use the crosshair positioning laser to preview the layout of your embroidery design; then adjust the position and angle for precise alignment.
Embroider at 1,000 SPM
The Capella stitches up to 1,000 stitches per minute. Embrace larger, multicolored designs and watch them stitched in no time!
Large Embroidery Field
The Capella machine gives you 7-7/8" x 11-3/4" of generous space for your embroidering needs.
175 Built-in Designs
You'll always have something to embroider with Capella's huge selection of built-in designs that includes XX exclusive designs from Baby Lock. The design library features large thumbnails to make finding the right match even easier.
Automatic Needle Threader
Get the stitching started with worry-free threading. The automatic needle threader puts your thread through the needle so you are ready to begin stitching.
Multi-line Text & Justification
Now you can create multiple lines of text quickly and easily, without the need for constant rehooping. Plus, you can center or justify your text alignment to get precisely the look you desire.
38 Built-in Fonts
38 built-in, editable fonts to create distinct projects. Font designs include large floral alphabet, Greek letters, large appliqué alphabet, and a Baby Lock exclusive font.
2 USB Drives (1 Type A, 1 Type B)
Use USB connectivity to quickly import designs to your machine from a computer, flash drive, or CD-ROM. The Capella USB flash drives support multiple design software formats.
Convenient Bobbin System
This front-loading bobbin system with a vertical hook makes bobbin changes a cinch. You never have to remove your embroidery hoop.
Quick-Set, Built-in Bobbin Winder
The Capella bobbin system includes an automatic bobbin winder with its own motor. The winder seat holds the thread in place and stops automatically when the bobbin is full.
Guaranteed to fit because it is a 
 part.
Semi-Industrial Features

Single-needle machine
Maximum embroidery speed 1,000 stitches per minute
Embroiders up to 7-7/8"" x 11-3/4" embroidery field
Stitch reading capacity:

500,000 Stitches per design, or
127 Color changes

Technology Features

TruViewTM LCD Color Touch Screen:
Shows 260,000 colors
Measures 7" diagonally
Adjustable screen brightness
Clock and Date
Design placement using drag and drop capabilities
Estimated embroidery time display and stitch count
Needle advancement (1, 10, 100 or 500 stitch increments)
Measurements displayed in inches or millimeters
Color separation
Thread color indicator
On-screen hoop size indicator o 300 Color names
Needle Beam for precise alignment




Software/Connectivity

Optional External USB 1GB Flash Drive compatible up to 32GB
2 USB drives; 1 (Type A) drives, version 2.0 connects with flash drives and CD- ROM drives and 1 (Type B) USB direct connects to a PC
Reads multiple formats (PES, PEC, DST, PHC)
Upgradeable through USB connection or removable flash drive




Convenience Features

Built-in memory (1MB)
Bobbin system: front loading, vertical rotary hook
Quick-Set, built-in bobbin winder with independent motor
Can use pre-wound bobbins (Class "L")
Push button, automatic needle threader
2 LED lights to illuminate work area
Upper thread breakage sensors
Manual tension controls
Automatic thread trimmer (upper and lower)
Start/Stop button with lock feature
On-screen speed control while stitching
Change screen and thumbnail back-ground color
4-Thread spool stand to pre-thread standby colors for easy thread changes
Built-in holder with stylus

Customizing Features

Built-in embroidery designs
175 Designs
38 Fonts, including large floral alphabet, Baby Lock exclusive script, Greek letters and large applique alphabet
140 Frame combinations
Combine embroidery designs on screen
Character/text array function
Multi-line Text
Character spacing
Change embroidery position using arrow keys
Pattern rotation (1°, 10° and 90°)
Design size change (10% reduction and 20% enlargement) on most designs
Needle forward and reverse position placement (1, 10, 100 or 500 stitch increments) and by color
Design duplication
Color sorting on non-overlapping designs
Automatic basting
Mirror imaging
Increase design thumbnail from 100% to 150% for easy viewing
Change color selections within designs
Continuous border capabilities and color sorting on border designs
Monochrome option for embroidery designs
Instant needle edge placement (9 starting and 9 ending positions)
Custom color displays in 3 options: Original Palette, Custom Palette 1, Custom Palette 2
6 Embroidery hoops, including the largest 8" x 8" (200mm x 200mm)
Hoop sensor advises hoop size for design chosen
On-screen count, version number and running time system




Support Features

Built-in operation guide
Built-in help messages
Auto save feature - automatically saves last design when power is turned off or a power failure occurs
Shipping weight (91 lbs.)
Machine weight (68 lbs. or 31 kg.)
Warranty

25-year product casting o 5-year circuit boards
5-year electrical
2-year parts
1-year labor

Optional Gold Standard Comprehensive Care Program available
Optional accessories available