Be sure to include 'Love of Sewing' in your machine purchase today!
The Baby Lock Exclusive Love of Sewing Membership is a comprehensive service, support, and maintenance program. Along with the peace of mind that your machine will be taken care of, other key benefits include access to over 1,000 Baby Lock SEWED online classes and unique savings opportunities. (Click here for additional information.)
---
If you're ready to find a new sense of excitement through sewing, you'll find a great place to start with Zest! Whether you're looking to put together simple craft projects or need a basic travel machine, the Zest is exactly what you need.
15 Built-In Stitches
Add your unique touch to every project with a library of stitches that sets everything apart!
Adjustable Stitch Length
Adjust your stitches from 0mm-4mm long for your own unique designs.
Free-Arm Sewing
Want to hem pants, work on a sleeve or sew in a hard-to-reach area? No problem. Just easily remove the flatbed and use Zest's free arm.
Portable Design
Zest's portable design makes it the perfect travel machine or the ideal choice for classes and clubs! Just grab it by the handle and go!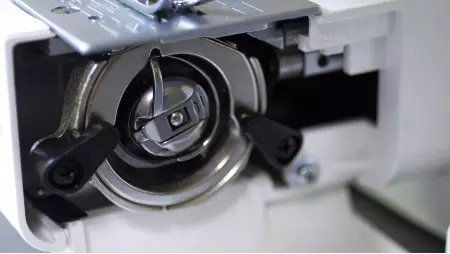 Front Loading Bobbin
The high-capacity bobbin holds plenty of thread, making sure you don't run out in the middle of a project.
Four-Step Buttonhole
Sewing a perfect buttonhole is easier than ever! All four sides are stitched out in just the right size.
Guaranteed to fit because it is a 
 part.
NUMBER OF FOUR-STEP BUTTONHOLES
TOTAL NUMBER OF STITCHES
MAXIMUM STITCH LENGTH
LIGHTING
PRESSER FOOT TYPE
BOBBIN SIZE
WALKING FOOT SIZE
NUMBER OF NEEDLES
NUMBER OF NEEDLE POSITIONS
NUMBER OF FEET INCLUDED
FEEDING SYSTEM TYPE
BOBBIN WINDING
BOBBIN LOADING TYPE
ACCESSORY STORAGE
FREE ARM CAPABILITY
THREAD CUTTER TYPE
TENSION SYSTEM
MACHINE ONLY WEIGHT
MACHINE ONLY HEIGHT
MACHINE ONLY WIDTH
MACHINE ONLY DEPTH
SEWING BED WIDTH