Be sure to include 'Love of Sewing' in your machine purchase today!
The Baby Lock Exclusive Love of Sewing Membership is a comprehensive service, support, and maintenance program. Along with the peace of mind that your machine will be taken care of, other key benefits include access to over 1,000 Baby Lock SEWED online classes and unique savings opportunities. (Click here for additional information.)
---
FREE

Baby Lock want to help you make it through the day with the thing we all love most: sewing.
That's why they are giving you 60 days of SEWED Online Sewing Classes for FREE.
Watch anywhere on any device in any room of the house. Stay home and stay safe!
CLICK HERE for more details.
---
Even your smallest projects are made with genuine zeal, no matter what they are. Zeal is the perfect choice for DIY-ers, craft ers or even someone who just needs to mend clothing. Regardless, you're sewing it and you're sewing it with genuine zeal.
25 Stitches
Add your unique touch to every project with a library of stitches that sets everything apart!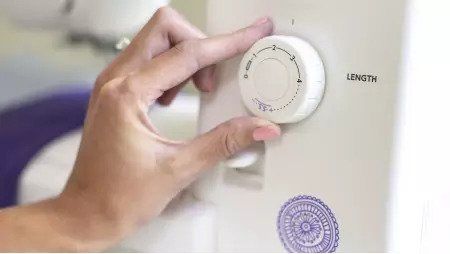 Variable Stitch Length and Width
Adjust the length and width for variety or specific techniques like basting or gathering.
Quick-Set, Drop-In Bobbin
Simply drop your bobbin in the machine, pull your threads through the slot and let your machine do the rest.
Free-Arm Sewing
Want to hem pants, work on a sleeve or sew in a hard-to-reach area? No problem. Just easily remove the flatbed and use Zeal's free arm.
Built-In Buttonhole
With the buttonhole foot, your one-step buttonhole will be automatically sized to match your button every time.
Advanced Needle Threader
With just a few simple motions, your needle is threaded and ready to use. There's no guesswork, no near-misses and no frustration!
Guaranteed to fit because it is a 
 part.
TOTAL NUMBER OF STICHES
LIGHTING
NUMBER OF LIGHTS
NUMBER OF ONE-STEP BUTTONHOLES
NUMBER OF NEEDLES
MAXIMUM STITCH LENGTH
MAXIMUM STITCH WIDTH
NUMBER OF NEEDLE POSITIONS
NEEDLE THREADER TYPE
NUMBER OF FEET INCLUDED
FEEDING SYSTEM TYPE
BOBBIN WINDING
BOBBIN LOADING TYPE
TENSION SYSTEM
FREE ARM CAPABILITY
ACCESSORY STORAGE
RETRACTABLE FEET DOGS
NEEDLE SIZE
BOBBIN SIZE
PRESSER FOOT TYPE
THREAD CUTTER TYPE
MACHINE ONLY WEIGHT
MACHINE ONLY HEIGHT
MACHINE ONLY WIDTH
MACHINE ONLY DEPTH
SEWING BED WIDTH