Please call one of our helpful store associates at 800-442-8227 for any questions about this machine. We guarantee you: it will be worth your time.
---
The new Luminaire 3 Innov-ís XP3 offers a range of advanced features that make it an incredible sewing, quilting, and embroidery machine. With new Wi-Fi capabilities, unique built-in designs and stitch functions, and our innovative StitchVision Technology, the Luminaire 3 Innov-ís XP3 is built to be as brilliant as your creativity. And it's here to bring your best ideas to light.
---
StitchVision Technology
Through an intelligent projection of light, the now enhanced and industry-first StitchVision Technology allows you to preview, audition, and edit your stitches and embroidery designs directly on your fabric. Experience more accuracy than ever before as stitches and embroidery designs can be projected right on your fabric. Choose your desired sewing stitch or design, and watch in amazement as it is projected onto the 5" x 3" virtual preview area.
My Stitch Monitor Mobile App
Enable wireless LAN connectivity between your PC and the Luminaire 3 to keep track of your embroidery with the My Stitch Monitor mobile app on your iOS® or Android™ device. Walk away from your machine and be notified via your mobile device when you need to change threads or if your project has finished stitching.
Artspira Mobile App - Available Fall 2022
A one-stop shop for embroidery and cutting designs so you can easily customize your next project. Design line-art-inspired drawings right in the palm of your hand with built-in embroidery drawing tools and optional stitch types (straight and zigzag stitch). With all these tools at your fingertips, design hand-drawn drawings up to 4" x 4" (100mm x 100mm) and 5" x 7" (130mm x 180mm) right on your mobile device and then transfer your creations to the Luminaire 3.
Stitch Tapering Function
Add a nice, professional taper to jeans, tops, and home décor. Simply choose the stitch you would like to use, the angle of the start and end of the taper, and the number of repeat stitches in the pattern cycle.
Ornate Long Stitch Technique
Use any of the 10 Long Stitch built-in designs to add a unique geometric enhancement to just about any project. This technique resembles string art with dramatic long stitches layered to create a unique embellishment.
Large Connect Designs
When you want to 'go big' on your next embroidery project, the five built-in large connect embroidery designs are a great starting point. Select from ornate flowers, birds, and other elaborate designs that range from 721mm x 383mm (28" x 15") and when combined, allows you to create a large ensemble.
Creative Yarn Couching
WIDER VIEW AND FASTER SCANNING IN HIGH RESOLUTION
Enhance your creations with a new technique so you can embroider "letters." When you fill in the characters using yarn (the color of your choice), you give it a 3D effect. You can use upper case letters, (approx. 3" tall), lower case, numbers, and all characters are also resizable for even more flexibility.
65 Square Inches of Workspace
With the powerful combination of the large 65 square inches of workspace – the largest of any Brother machine – and the generous 13.1" needle to arm span, projects of any size are easily managed. Our largest needle to arm is a dream for any sewer, embroiderer, crafter or quilter, with the ability to easily accommodate a rolled king-size quilt.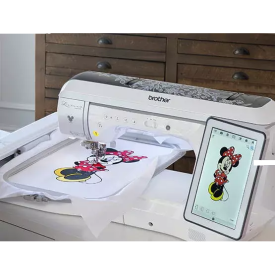 Disney is in our DNA
The Luminaire 3 has the magic of 192 built-in Disney embroidery designs and 10 decorative Disney stitches. Additionally, access exclusive Disney and Disney·Pixar embroidery designs through the iBroidery.com Download Center. (Additional purchase required)
Enhanced Innoveye Plus Technology
Wider View with Faster Scanning in High Resolution It's like having a built-in camera and scanner! The ability to scan the entire embroidery area provides virtually endless creative options and helps ensure that all your projects are perfect.)
Built-in Embroidery Designs and Sewing Stitches
Let your imagination and creativity run wild with the extensive library of over 1,500 built-in embroidery designs, including Disney, Anna Aldmon, Zundt, Zentangle, and Pierre Joseph Redouté. Choose a geometric enhancement by using one of the 10 Long Stitch patterns. This technique resembles string art with dramatic long stitches layered to create a unique embellishment.
Perfect for Quilters
Want to add some embellishments to your quilts? The Luminaire 3 has five options of two-color quilting sash designs, perfect for eye-catching, colorful borders. Building upon the sensation of the auto-split designs, enjoy five hexagon shapes to give you more options and then choose from either single or triple stitch for quilt sashing to let your stitches stand out on your projects. We call it "Quiltbroidery!"
My Connection Feature
When connected to a wireless network, send files back and forth between your Luminaire 3 and select ScanNCut DX machines for added efficiency. Choose any non-Disney embroidery design in the Luminaire 3, follow the steps in the My Connection feature, and transfer to the ScanNCut DX. When the design or pattern is sent from the ScanNCut DX to a Luminaire 3, it can be retrieved in My Design Center. This feature takes the place of using a USB to transfer designs between machines and is exclusive to the ScanNCut Innov-ís Edition ScanNCut DX SDX325 and the Limited-Edition Disney Innov-ís Edition ScanNCut DX SDX330D.
Guaranteed to fit because it is a 
 part.
Basic Features
| | |
| --- | --- |
| Accessory Storage | |
| Additional Specialty Feet Available | |
| Adjustable Screen Brightness | |
| Automatic Thread Cutter | |
| Branded Series | Innov-is |
| Built-In Memory | |
| Feed Dog Points | 7 |
| Needle Position Key (Up/Down) | |
| Needle Stop Position Up/Down | |
| Needle Threading System | Automatic |
| Number of Presser Feet | 17 |
| Number of USB Ports | 1 |
| Presser Foot Leveling | |
| Realistic Preview | |
| Screensaver | |
| Specialty Feet Included | |
| Start/Stop Button | |
| Thread Sensor On/Off | |
| Thread Tension | Automatic |
Embroidery Features
| | |
| --- | --- |
| Adjustable Design Icon Size Setting | |
| Appliqué Creator Function | |
| Automatic Feed Thread Cutting | |
| Color Shuffling Function | |
| Built-In Designs | 1554 |
| Curved Text on Screen Editing | |
| Drag and Drop Editing | |
| Included Embroidery Hoops | 5" x 7", 4" x 4", 10 5/8" x 16", 10 5/8" x 10 5/8" |
| Maximum Embroidery Area | 10 5/8" x 16" |
| Monogramming Font Styles | |
| My Custom Design Feature | |
| Onscreen Automatic Density Adjustment | |
| On-Screen Editing | |
| Print and Stitch Technology | |
| Sewing Decorative Stitches with Embroidery Arm Attached | |
| Space Reduction among Embroidery Alphabets | |
| Speed Adjustment | |
| Trial Position/Layout Function | |
Quilting
| | |
| --- | --- |
| Built-in Sewing Lettering Fonts | 3 |
| Free Motion Quilting Foot | |
Sewing
| | |
| --- | --- |
| Automatic Height Adjustment (AHA) | |
| Available Stitch Types | Chain Stitch, Lock Stitch, Straight Stitch, Zigzag Stitch, Stretch Stitch, Overlock Stitch, Cover Stitch, Running Stitch, Back Stitch, Satin Stitch, Outline Stitch, Tacking Stitch |
| Back to Beginning Key | |
| Built-In Stitch Selections (Stitches) | 824 |
| Button Hole Styles | 15 |
| Independent Bobbin Winding Motor | |
| Knee Lifter | |
| Maximum Sewing Speed (Stitches Per Minute) | 1050 |
| Multi-Directional Sewing | |
| My Custom Stitch Feature | |
| Pivot Function | |
| Reinforcement/reverse Stitches | |
| Sideways Sewing | |
| Speed Control | |
| Stitch Length | 5mm |
| Stitch Width | 7mm |
Other
| | |
| --- | --- |
| In-Box | 4 Embroidery Frame Sets, Embroidery Foot, Zigzag Foot, Monogramming Foot, Overcasting Foot, Zipper Foot, Camera Detecting Buttonhole Foot, Blind Stitch Foot, Button Fitting Foot, Dual Feed (Digital Dual Feed) Foot, Straight Stitch Foot, Free-Motion Quilting Foot, Free-Motion Echo Quilting Foot, Free-Motion Open Toe Quilting Foot, 1/4 Inch Quilting Foot (Piecing Foot), Couching Dual Feed Foot, Yarn Guide for Sewing Couching, Embroidery Couching Foot, Yarn Guide for Embroidery Couching, Yarn Threader, End Point Sewing Stickers, Straight Stitch Needle Plate, Large Accessory Case, Dual King Spool Thread Stand, Adjustable Presser Foot Knee Lever, Grid Sheet Set, ScanImation Scanning Frame, Embroidery Needle Plate Cover, Dual Purpose Stylus, Additional Accessories Included in Box |
| Warranty | 2/6/25 Year Premium Limited Warranty |
| Carton Dimensions (W" x D" x H") | 24.606" x 35.236" x 28.74" |
| Carton Weight (lbs) | 90.169 |
| Unit Dimensions (W" x D" x H") | 27.16" x 12.67" x 13.74" |
| Unit Weight (lbs) | 43.21 |
Follow These Steps to Access the Online Course received FREE* with the purchase and registration of your XP3
Register your machine on Brother-USA website.

Once registered you will receive an email from Brother with a personal coupon code and access instructions for the Angela Wolf Masterclass (you must consent to receiving emails from Brother upon machine registration)

Go to website: Luminaire Masterclass

Create an account with your preferred email address and password

Enter your personal coupon code to access class at no charge

Enter your Luminaire serial number to open all the 22 chapters
You will have access to the online course for a period of 1 year from your first class.