Janome knows that today's sewists have changed the landscape of the sewing world. You have high expectations and want a machine that meets exacting criteria. Sewists, meet the Continental M7, a machine that has been thoughtfully designed to meet your needs. It has the largest sewing area in the industry, providing you with the room, light and line of sight necessary to create. The 7" high definition, color touch screen is ergonomically placed on the machine for easy access and reading. New features, such as computerized needle plate removal, an intelligent feed system and an advanced integrated upper feed system will make your sewing easier and faster while the newly designed brushless DC motor gives you the powerful sewing ability that you deserve. It's time to take your sewing to the next level and the Continental M7 will take you there.
Check out our video of the new features of the Continental M7!
Features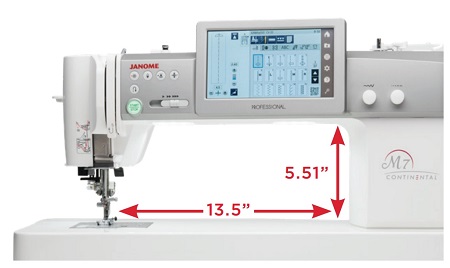 Ample Work Area and Ergonomic Design
The seamless, heavy-duty, powder-coated, all metal flatbed offers an uninterrupted, large sewing area with 13.5 inches (343mm) to the right of the needle. With a 5.51 inch (140mm) workspace height and 3.15" of space above the needle plate you'll complete any sewing project with ease.
Advanced LCD Touchscreen
The advanced touchscreen shows all of the information you need to sew with ease. Select new stitches and memorize your favorites for quick access. The expanded Sewing Applications feature gives you guidance for perfecting a variety of sewing tasks, including those that use optional accessories. With Memorized Quilt Seaming, the machine remembers the length of your seam, so you can cruise through stitching a large number of the same size blocks.
AcuFeed Flex™ Plus
Our AcuFeed™ Layered Fabric Feeding System has long been legendary in the sewing and quilting world for its amazing precision and power. We've taken it to the next level with the AcuFeed™ Flex Plus. The system is still removable but, adding and removing it from the machine has become more advanced - simply touch the AcuFeed icon on your screen to engage or disengage the foot. This ensures that the AcuFeed Flex foot is attached correctly and prevents it from becoming dis-engaged prematurely. AcuFeed™ Flex comes in three useful options. The two-pronged AcuFeed™ feet advance fabric flawlessly from the top and bottom. Use this system for quilting, seaming, and traditional sewing. Our special one pronged AcuFeed™ feet give precise control for more detailed work, like installing zippers and matching seams. And, our HP2 AcuFeed Flex foot is designed to work with our HP plate, for the highest level of stitch results.
Professional Grade Needle Plate, HP foot & HP2 foot
Utilize this narrow gauge industrial type feet for curves and precise topstitching. They provide great ease of control and superior visibility. Sized perfectly for creating 1/4" seams, achieve accurate stitches and perfects starts on any type of fabric.
Stitch Tapering Function
Create original designs for borders and decorative effects with the Stitch Tapering Function. This distinctive feature allows you to adjust stitches at a 30, 45, 90, and 120 angle to combine and edit built-in stitches. Apply this specialized technique through 41 stitches with the Tapering function.
Easy Threading Bobbin Case and Cover
The specially designed bobbin case and cover mean there's no need to pull long thread tails up and through when you first thread the machine. Slip the bobbin thread in the cover plate guide; the built in cutting blades trim the tail to the correct length for a superclean start to your stitching line. After the initial threading, the auto-thread cutter takes care of trimming and re-setting the tails each time.
Guaranteed to fit because it is a 
 part.
Hook Type
Top Loading Full Rotary Hook Bobbin
Thread Tension Control
Automatic
Upper Thread Sensor
Yes
Bobbin Thread Sensor
Yes
Auto Thread Cutter
Yes
Remote Thread-Cutter Port
Yes (on foot controller)
Maximum Sewing Speed - Straight Stitch
1300spm
Maximum Sewing Speed - Zig Zag
1000spm
Minimum Sewing Speed
60spm
Speed Control Slider
Yes
Automatic Presser Foot Lifter
Yes
Automatic Presser Foot Pressure Control (fabric thickness detection)
Yes
Automatic Foot-up (pivoting)
Yes
Presser Foot
Snap (clip) on type
Maximum Stitch Width
9mm
Maximum Stitch Length
5mm
Feed System
AcuFeed Flex Plus
Easy Reverse Button
Yes
Bobbin Winding
Bobbin Winder with Plate and Cutting Blade
Winding the bobbin with the machine threaded
Yes (with additional spool pin)
Stop winding the bobbin automatically
Yes
Stitch Selection
Touchscreen
Touch Panel
LCD
Screen Type ans Size
Color LCD 7"
Dual Voltage 80v - 240v
No
Cover
Semi-Hard Cover
Number of Stitches
400
Number of Buttonholes
12
Design/Pattern Storage Capacity
Up to 3mb
Mirror Image of Patterns
Yes
Pattern Selection - Direct Stitch Selection
Yes
Pattern Selection - Quick Stitch Selection
Yes
Number if Stitch Combinations
100
Tapering Functions
Yes (41 Stitches)
Ruler Work Mode (for FMQ Ruler)
Yes
Variable ZigZag
Yes
Instruction App Using QR Codes
Yes
Built-in Help Screen
Yes
Clock
Yes - Battery Powered
Needle Threader
Superior
Needle Up Down
Memorized
Automatic needle stop position
Down as default setting
Needle Position
91 needle positions
Built-in Needle Threader
Yes (manual superior needle threader)
Twin Needle Guard
Yes
Striaght Needle Plate Conversion
One touch replaceable type
Free Arm
No
Drop Feed
Yes
Drop Feed Sensor
Yes
Locking Stitch Button
Yes
Number of Stitch Combination
100
Last Stitch Recall Capability
Yes
Knee Lift
Yes
Machine Size
25.6" (w) x 14.6" (h) x 10.2" (d)
Machine Weight
36.8lb.
Height Under Face Plate
3.1"
Work Space
13.5" x 5.5"
Extra High Presser Foot Lift
Yes
Foot Pressure Adjustment
Yes
External Media Type
1 USB Port
California Residents: