When you create with fabric and thread, every project is a journey. Where you end up and how you get there is all up to you... and your machine. And with wireless connect via your PC or iPad and our fastest processor to date, you'll be there in no time. And the size is fantastic. The Horizon Quilt Maker MC15000 comes standard with our largest hoop and has the largest touch screen we've ever made! No matter which direction you head, the new Horizon Quilt Maker MC15000 can take you there.
Features
Ruler Quilting
Expand your quilting options and take advantage of the wide array of precision templates on the market for ruler-guided quilting. Engage the Ruler Work mode in Sewing Applications and use the new Ruler Work foot (QR) to safely follow along the guiding edge of precision cut templates. Achieve beautiful and consistent quilting design results previously only available to longarm quilters.
Quarter Inch Foot without Guide
Quilters know that a precise quarter inch seam is the key to precision-pieced patterns. Personal preference often dictates the just-right pairing of sewist and accessory foot to achieve those results. The new flangeless Quarter Inch foot removes the guide from Janome's traditional O foot for improved visibility and exact seam placement.
Variable Zig Zag open toe foot
The new open toe Variable Zigzag (VZZ) foot (QZ) makes it easy to follow your stitch progress when using this unique Janome function. See precisely where you wish to widen or narrow your zig zag stitch with the hands-free adjustment of the knee lifter.
Professional Grade Foot and Needle Plate
Experience industrial-style precision sewing of curves and top-stitching with the unique Professional Grade foot and needle plate combination. Inspired by the narrow gauge of industrial accessory feet and the ideal conditions of straight stitching from the left needle position, the HP foot offers superior visibility and control. The added benefit of being able to sew precise quarter-inch seams with this foot makes it a winning addition to the quilter's tool box.
AcuSketch App
Craft original embroidery and quilting designs with the touch of a finger using the exclusive AcuStitch app. Work with a blank canvas or trace over your favorite photos or children's drawings to create limitless straight-stitch designs for truly personal embroideries. Enjoy the power of quilting with embroidery by turning a doodle into a quilt design that you can repeat over multiple blocks. Send designs over Wi Fi to save on your 15000. Fun for all ages.
Light Bar Progress Indicator
The attractive detail of the 15000's multi-color light bar takes on a new level of functionality as the light can now be used as a visual guide to design completion. Track the progress of a design by the movement of the light within the bar on the face of the machine.
Tapered Stitch Mode
Add precise detail to your next project with the enhanced tapering stitch function. Top-stitching, applique or cornering can now benefit from the professional degree of finishing that a tapered stitch can provide. Choose from a broad selection of taper-ready stitches, set the desired stitch angle and number of pattern repeats or mirror image a design to suit your sewing needs.
AcuStitch Tool
Convert select ordinary stitches into embroidery stitches and arrange them along precisely sized lines and circles with perfection. Eliminate the guesswork of trying to calculate the necessary number of pattern repeats to beautifully outline and enhance circular motifs.
Bringing Your Creative Vision to Life
Embroider Like Never Before
Create larger and more thread-intensive embroidery in a single design layout, import and combine designs for a total stitch count of up to 200,000, and stitch out at up to 1,000 stitches per minute.
Wi-Fi plus Useful Apps for Your Sewing
The Horizon Memory Craft 15000's built-in Wi-Fi capabilities make it easy to transfer designs, fine tune embroidery placement and monitor your stitching! With Janome's collection of Apps you can edit and monitor your embroidery from anywhere.
Made with the Designer in Mind
Great Embroidery Capability
With 480 built-in embroidery designs that give you a wide range of styles and motifs for all types of projects, and 5 standard hoops from the GR Hoop to the tiny Free Arm Hoop, the Horizon Memory Craft 15000 has made embroidery easier than ever.
Big Quilt? No Problem!
Could you use a little more quilting room? The HMC15000 has the largest workspace on any Memory Craft with a 17.25" bed and 11" to the right of the needle.
AcuFeed™ Flex
Janome's exclusive AcuFeed™ Flex fabric feeding system moves layers of your project together under the needle with perfect precision from both the top and bottom. Enjoy this great feature with thick fabrics, quilts and more.
Free Motion Quilting
Whether finishing your project, or just adding a small detail, Free Motion Quilting is effortless with a selection of four different accessory feet and the friction-free table and bobbin surfaces that the HMC15000 offers. Your stitching will be smooth and even every time, giving you a work of fabric art that is uniquely yours.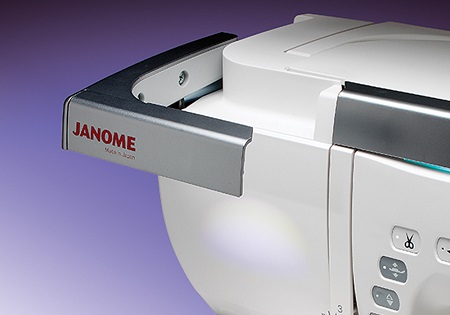 See Your Work with New Clarity
There's extensive LED lighting for a shadow-free work space. For even greater illumination in the needle area, pull ou tthe High Light™. It works in conjunction wiht the AcuView™ magnifying system, which includes 3 lenses of varying strengths.
Create and Edit Your Own Custom Stitches
Design original decorative stitches from scratch, using the updated Stitch Composer™. It's easier than ever, and you can use your new creation just like a built-in stitch, altering length and width and adding it to combinations.
One Step Needle Plate Conversion
When using lightweight fabrics or piecing quilts, a straight stitch needle plate makes all of the difference. Simply push the lever to release the plate and snap a new one in place with no screws or tools necessary.
Design on a Bigger, More Vivid Touchscreen
The biggest screen in the industry! With 16,000,000 colors and a full 800 x 480 pixel resolution, the high definition 9" touchscreen is like working with your favorite tablet computer.
Stitches & Extras
Choose from 510 different stitches, 13 buttonholes, 11 fonts and 480 Built-in Embroidery Designs
(1,000+ with AcuDesign, included App).
| | |
| --- | --- |
| Hook Type | Top Loading Full Rotary Hook Bobbin |
| Thread Tension Control | Automatic |
| Maximum Stitch Width | 9mm |
| Feed System | AcuFeed |
| Easy Reverse Button | Yes |
| Bobbin Winding | Independent Motor |
| Stitch Selection | Touchscreen |
| Cover | Semi-Hard Cover |
| Number of Stitches | 510 |
| Number of Buttonholes | 13 One-step Buttonholes |
| Needle Threader | Automatic, Built -in |
| Needle Up Down | Memorized |
| Free Arm | Yes |
| Drop Feed | Yes |
| Needle Position | 91 |
| Locking Stitch Button | Yes |
| Twin Needle Guard | Yes |
| Number of Stitch Combination | Up to 100 stitches |
| Last Stitch Recall Capability | Yes |
| Knee Lift | Yes |
| Machine Size | W 25.6" x H 12.6" x D 10.2" |
| Machine Weight | 34.6 lbs |
| Work Space | W 11" x H 4.7 |
| Extra High Presser Foot Lift | Yes |
| Foot Pressure Adjustment | Yes |
| Maximum Stitch Length | 5mm |
| Other Features | real-time PC connection with Horizon Link for creating and editing embroidery designs - stitch composer stitch creation program, Variable Zigzag for Free Motion Quilting |
| Number of Designs | 479 |
| Fonts for Monogramming | 11 |
| Maximum Embroidery Size | 9.1" x 11.8" |
| Design Transfer Options | USB, Direct PC connection via Horizon Link |
| Embroidery Sewing Speeds | 1000 |
| Embroidery Format | JEF, .JEF+, .JPX |
| On Screen Editing Functions | Resizing, Combine, duplication, Rotate, Vertical/Horizontal Flip, Arcing, Groupiing, User Color Choice |
| Programmable Jump Thread Trimming | Yes |
| Adjustable Speed While Embroidering | Yes |
| Flexible Stitch Travelings | units of 1, 10, and 100 |
| Auto Return Post Thread Break | Yes |
| Adjustable Hoop Positioning | No |
| Thread Brand Selection | Janome, Guterman, Sulky, Madeira, Mettler, Robison Anton |
| Available Hoops | GR 230 x 300, SQ23 230 x 230, SQ14 140 x 140, FA10 100 x 140, FH 100 x 100 (optional) |
California Residents: