TL-98P is a single needle, lock-stitch, lockstitch, portable sewing machine with automatic thread trimmer for Quilting, Tailoring, Apparel and Home Decor.
Features
Easy Bobbin Replacement
A new bobbin case latch and an enlarged bobbin case area make it easier to remove and replace the bobbin.
Automatic Needle Trimmer
The machine is equipped with an automatic thread trimming device that simultaneously cuts the needle and bobbin threads at the sewing end by lightly pressing the push-button. It uses the thread trimming mechanism that is
Foot Pedal Switch for Thread Trimming
As with an industrial sewing machine, the thread trimmer can be activated with the foot pedal switch. It greatly increases sewing efficiency.
Heavy-Weight Materials are sewn with Ease
The speed control mechanism, operated by microcomputer, allows the machine to sew material at low speeds. This provides for accurate feed and perfect stitching when sewing heavy weight fabrics, quilting and multiple layers of materials.
Predetermined Stop Position of the Needle
To move the needle up or down as desired, simply press the needle up/down button. When the button is pressed continuously, the machine sews stitch by stitch at low speed.
Automatic Needle Threader
The push lever automatic needle threader easily threads the needle without eyestrain and allows you to start sewing quickly.
Knee Lifter Lever
The knee lifter lever allows you to lift / lower the presser foot without using your hands.
Adjustment of Presser Foot Pressure
Presser foot pressure can be adjusted according to the fabric being sewn by turning a regulator located on the top of the machine.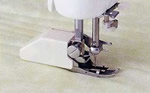 Even Feed Foot
With its reliable feed, the even feed foot ensures the machine's ability to produce beautiful seems when sewing difficult-to-feed fabrics such as velvet, as well as heavy weight materials such as leather.
Two Types of Quilting Foot
Two types of quilting feet are supplied as standard accessories with the machine. A 1/5 Quilting Foot is used for basic quilting and the 1/4 Quilting Foot for precision sewing with 1/4 inch stitch width.
Drop Feed
The feed dog can be raised and lowered simply by depressing a switch. When quilting, the drop feed allows you to sew curved stitches with ease.
Convenience Features:
Automatic Needle Threader
Automatic Thread Trimmer
12mm Extra High Foot Lift
Extended Flat Bed
Drop Feed Dog
Needle Up/Down Button
Straight Stitch
Specifications:
Sewing Speed
Max. 1500RPM
Stitch Length
Max.6mm
Presser Foot Lift
By lever Max-9mm, by Knee Lifter Max. 12mm
Needle
HAx1 (130/705H) #7~#18;
HLx5 #9~#16
Dimensions (cm)
45.2(W)x35.0(H)x21.9(D)
Weight (machine)
11.5kg (25.4 lb)
Thread Trimmer
Auto Foot Control or
Push Button
Extension Table
59.0x27.7cm
Hook
Horizontal-Axis, full-rotary hook