Miele's Compact C1 Pure Suction vacuum cleaner features an AllTeQ Combination Floorhead, which is ideal for cleaning low-pile carpeting and smooth flooring. Easily transition from smooth floors to carpeted surfaces with a quick click of the rocker switch. A telescopic, stainless steel Wand and long electrical cord, with automatic rewind, provide a total cleaning radius of 29.5 feet. Other conveniences include three accessories: a Dusting Brush, Upholstery Tool and Crevice Nozzle, held in place by a VarioClip.
Features
Hygiene
Miele vacuum cleaners' exceptional filtration is based on a multi-stage system. It consists of the innovative Miele AirClean 3D Efficiency dustbag, Pre motor filter and Miele exhaust filter. The interaction of these components ensures that more than 99.9% of fine dust is filtered. You can breathe with ease!
Cleaning Performance
It takes more than high wattage for a good vacuum cleaner. With Miele vacuum cleaners, a number of design characteristics interact in a most efficient manner. The tight seal of Miele vacuum cleaner housing and perfect air flow ensure strong suction of the floorhead. Miele has developed especially efficient floorheads for low wattage vacuum cleaners; they achieve perfect cleaning results even with the lowest power setting.
Quality
Quality is Miele's highest priority. From conception to finished appliance. Miele canister, stick and upright vacuum cleaners are developed and manufactured exclusively in company-owned factories. At the end of the manufacturing process, each individual vacuum cleaner is subject to comprehensive testing one more time. This care and attention results in exceptional quality and a long service life for Miele products.
Comfort Handle with Integrated Controls
Miele has developed many clever features to make floor care as easy as possible for you. Thanks to the particularly ergonomic design and user-friendly controls, vacuuming can actually be fun.
Practical Locking System
Floorhead, suction tube and handle lock into each other with an audible fit. The parts all connect securely but can be easily disengaged at the touch of a button, for instance for attaching a different accessory.
AirClean Filter
The AirClean filter retains even the smallest particles. The time strip® lets you know when the filter should be changed.
Handles with Anti-Static Conductor
All Miele canister vacuum cleaners have a small metal strip integrated into the handle, which works like a lightning conductor. This prevents static discharge between appliance and user.
Thermal Protection
A temperature limiter protects all Miele canister vacuum cleaners from overheating. Should the air passage become blocked – for instance by vacuuming up bulky particles – the motor will automatically shut off for safety reasons. After the cause of the shut-off has been eliminated and the appliance has cooled down, it is ready again for service.
Auto Shut Off
The floorhead is simply hooked onto the rear of the vacuum cleaner, leaving the suction tube in a secure position ready for use again. Particularly intelligent: On select Complete C3 models, the motor switches off automatically in park position.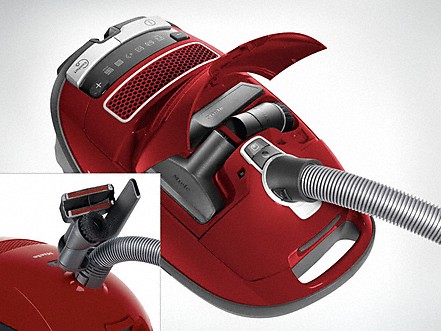 A Complete Range of Accessories
Miele Canister vacuum cleaners are equipped with three high-quality, standard attachments: upholstery nozzle, crevice nozzle, and dusting brush. Depending on the model, the standard attachments are either integrated or on a Miele-exclusive VarioClip for easy access.
Stainless Steel Telescopic Wand
Telescopic tubes by Miele can be adjusted to your working height at the touch of a button, so that you can vacuum comfortably and treat your back gently.
Construction type

Canister vacuum cleaners with FilterBag™
Product line

Compact C1

Motor type

PowerLine

Product type

SCAE0

Control panel

Electronic suction power setting

6-stage rotary selector

Ergonomic carrying handle
Ergonomic handle
Telescopic suction wand

Stainless steel telescopic tube

Park system for vacuuming breaks
During vacuuming breaks the floorhead is simply hooked on the rear of the vacuum cleaner.
Park system for storage

One side

Mobility

Castor wheels gentle on floors
Three-point maneuverability
Filter system

Type of FilterBag™

AirClean 3D Efficiency FJM

FilterBag™ volume in l

3.5

FilterBag™ change indicator
Exhaust filter

AirClean filter

Motor protection filter
Safety

Locking system for floor head and handle
Automatic FilterBag positioning
Performance data

Max. power in W

1,200

Standard accessories

Three-piece accessory set

on the Vario clip

Upholstery tool
Crevice tool
Dusting brush with synthetic bristles
AllTeQ Combination Floorhead SBD 285-3
Filter

AirClean filter